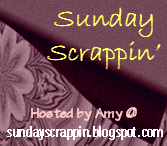 My TADAs for last week: 3 cards I made last Sunday night. I wanted to do more, but I guess that 3 cards are better than none... After all, I'm in the middle of my exams and don't have ANY free time at all. :(

As you can see, I used the same stamp for all three of them and it's basically the same card, but since I never manage to do the same card twice there's something different in every single one. I really do like this stamp. My mother bought it for me last year and I haven't had time to play so much with it yet. But just you wait. *lol* As soon as I finish my exams I will spend a WHOLE weekend just scrapping and making cards.




My TODOs for this week: Not much. I have a HUGE exam on Thursday and that's about everything that's on my mind right now. And as soon as I finish that one I need to start with the exams I have within 3 weeks from now. So I guess my crafting weekend will have to wait until mid February.

This week's bonus question: Which of your recent projects were you the most proud of? (Any photos?)
I'm sorry to say that here haven't been any "recent projects" on my table, I've been too busy with my studies. Hopefully that will change soon.